Welcome to the Friendship Art Studio, where everyone is someone...and everyone is an artist! 
At Friendship Art Studio we welcome artists of all ages and abilities.
Art With Friends: Drop-In Art Making 
Sundays from 1pm to 4pm
Every Sunday from October 29, 2023 through May 26, 2024
Events and Programs
Click here to see what's going on and how you can get involved!
Private Art Parties for Adults/Teens
An art party is the perfect way to celebrate any milestone, event, or occasion!  Up to 20 guests will each create an art project or paint a canvas chosen ahead of time by the party host.  No previous art experience necessary—everyone will leave with a craft project or painting they will be proud of!  We provide all of the materials and a talented teacher to guide you through the entire project.  Fee per project varies, plus hourly rate applies.  
If you would like to provide food and beverages, our cafe will cater your event for an additional fee.
Click here for more details and to request your party date!
Children's Birthday Parties
Relax and let us handle everything! Kids of all abilities have a blast while they make an art project, play games and enjoy cupcakes with their friends!
Our one-hour birthday parties are scheduled on Sunday mornings between 10 am and 1pm.
The studio is reserved just for your private party. The non-refundable reservation fee includes one dozen cupcakes (made right here in our bakery!) and a beverage; additional cupcakes can be purchased if more than 12 guests.  Fee is payable when party date and time are confirmed.
You choose an art project and a game ahead of time, we provide all materials and a talented instructor. Fee per project applies and varies from $8-$15 depending on the project you choose.  We can accommodate up to 20 children.
Additional food and beverage can be pre-ordered from our cafe, menu will be provided upon request.
Click here to book your party!
Questions? Click here to email our birthday party art instructor, Sophie  ([email protected])
Field Trips
A field trip to our Art Studio is the perfect outing for Elementary, Middle and High Schools, Adult Day Programs, Children's Day Cares and more!
Spend a fun hour in our studio where each guest will make a project to take home!  You will work with our Art Director prior to the event to determine which project your group will create, based on the needs and skill level of the group.  We provide all materials and an instructor.  Fee per project varies, plus hourly rate applies.
All ages and abilities are welcome!
Click here for more details and to request your Field Trip date.
Art Gallery—Now Open Inside Friendship Art Studio!!
Our new Art Gallery inside the Friendship Art Studio is open from 12:30pm to 5pm Monday through Thursday, from 6am to 3pm Friday, and from 9am to 5pm Sunday.  Here you will find artwork from our talented Friendship Circle family and friends available for purchase.  A percentage of each sale benefits Friendship Circle.  Support a local artist and you support our mission when you purchase a one-of-a-kind art piece from our NEW gallery!
Questions?  We are here to help!
Click here

to email Jen Schoshinski,  Friendship Art Studio Director
For info and updates on all our amazing Art programs, Click Here!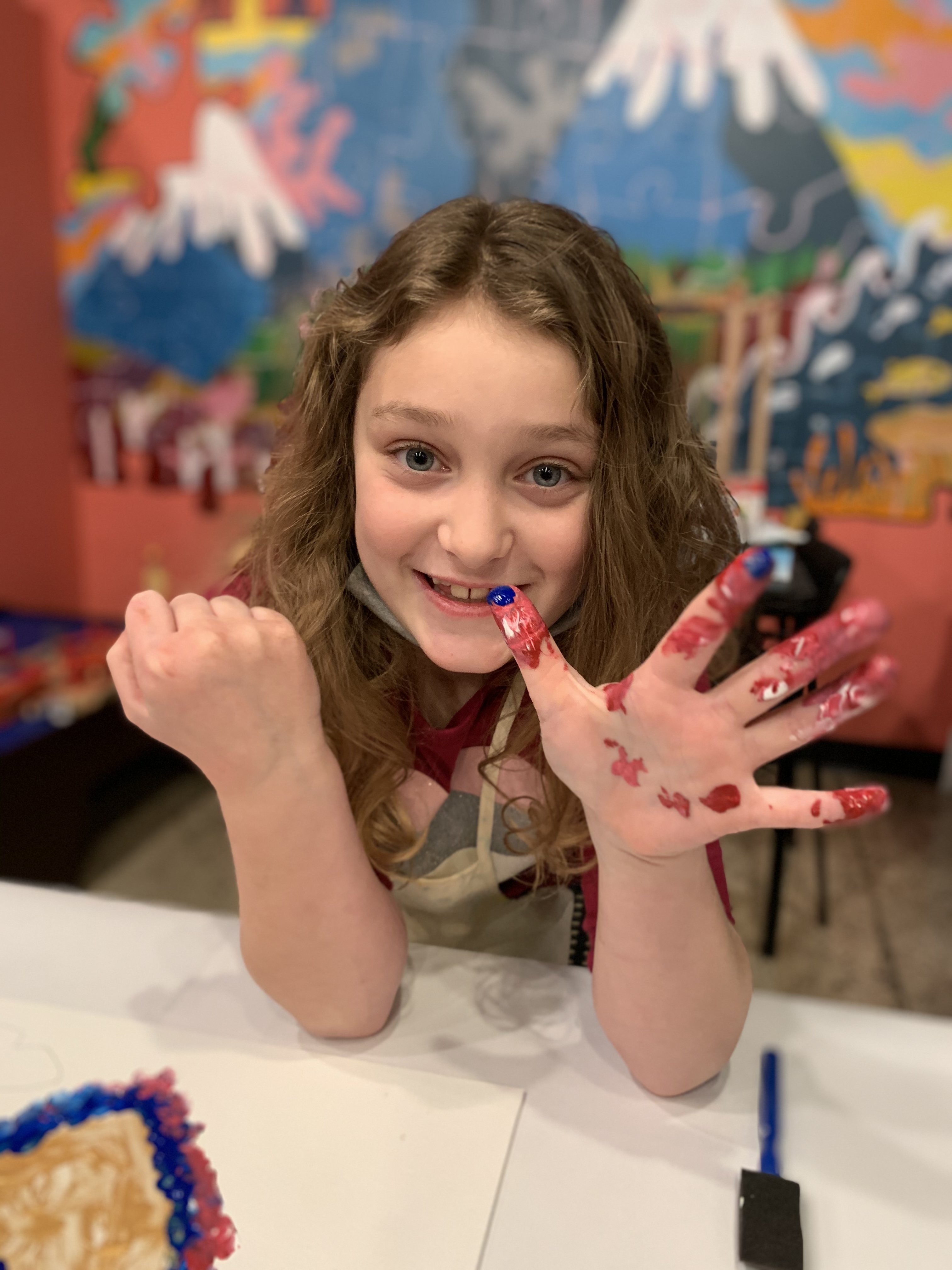 OUR  WALL MURAL IN THE FRIENDSHIP ART STUDIO
A young and talented artist, Mia Greyz developed a mural, titled "Mural of Unity" which embodies the mission and values of the Friendship Circle. Please feel free to stop in, visit our cafe and see this beautiful work of art. We are pleased to have this beautiful mural featured on the following news broadcasts: